Rather than shell out huge fees to rent a personal office space, individuals and companies in Lagos are opting to use co-working spaces.
Why?
Lagos is the largest and most populous city in Nigeria, which means it provides access to a huge market for businesses. However, it also means higher rents for residential and office spaces.
High rental fees and factors such as heavy traffic gridlock has led to the rise of shared workspaces in Lagos. Co-working spaces offers residents the flexibility to work in well-furnished offices without being tied to year-long rental agreements and huge rental fees.
In this article, we list out the best co-working spaces in Lagos. We consider several metrics in selecting these shared office spaces. But largely, the key is to pick a co-working space that suits your current needs.
Top Co-working Spaces in Lagos
The following are top co-working spaces in Lagos, from which you can conveniently work or operate a business: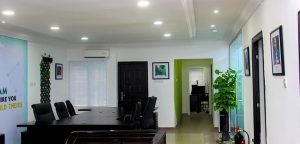 Address: Unit 16B, Omorinre Johnson Street, Off Admiralty Way, Lagos
First on our list of the best co-working spaces in Lagos is Enclaave.
Enclaave is a co-working community created to serve freelancers, entrepreneurs, SMEs, and corporates in need of fully-equipped workspaces for incubation and operations.
The company is designed to boost creativity and to reach its peak, to increase networking and growth. Enclaave is more than just a co-work space, it allows members to bounce ideas off each other, share resources, gain feedback, and, most importantly, learn to form the experiences of others.
The co-work space consists of meeting rooms, high-speed internet, mail service, equipped kitchen, tea and coffee, and events space
To acquire their services, pricing begins from 35000 Naira ($96).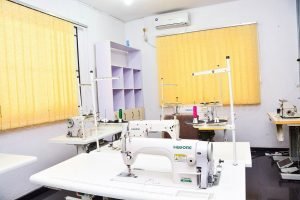 Address: 34 Ajao Road, Off Olufemi Street, Surulere
Are you a fashion designer, a tailor, pattern maker, or textile maker? Then this co-work organization will meet your needs effectively. 360 Creative Hub is a co-working start-up studio that supports the promotion and inspiration of independent fashion designers through the community, collaboration, and cooperation. They cater to creative fashion entrepreneurs who are passionate about design.
360hub provides machines including straight stitches, overlock, and cover lock, sewing machines, both electric and manual, ironing station. These machines are useful for starting your own tailoring business.
360hubs importantly offer spaces for freelancers for entrepreneurs, freelancers, and creative artists. They charge an initial sign up fee starting 30,000 Naira ($82).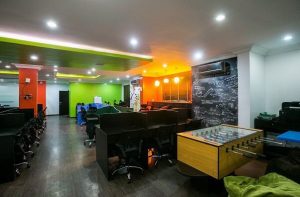 Address: 70 Olonode Street off Hughes, Alagbomeji, Yaba
LeadSpace provides access to critical services, from meeting rooms to accounting and PR, and they offer this just for businessmen to concentrate more on their venture success.
They create the best environment for work, to collaborate, to stay efficient, and be productive. Their co-working spaces are for entrepreneurs and founders of small and medium-sized businesses, middle-level corporate executives, independent freelancers, and creative artists.
Pricing starts from 40,000 Naira ($110) per month, and a day pass goes for 2500 Naira ($6).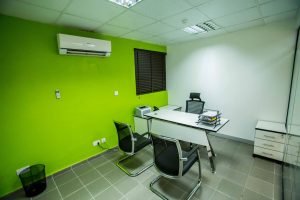 Address: The providence street, Lekki Phase 1, Lagos
Venia Business Hub provides affordable solutions to the difficulties surrounding setting up a new business in Nigeria, of which one is getting a nice workspace without breaking the bank. They provide this service by offering shared office spaces, building networking, and more.
They provide services that will adequately suit freelancers, digital nomads, and virtual clients.
Their pricing begins from 40,000 Naira ($110) per month. A single day pass called tempo goes for 3500 Naira ($9).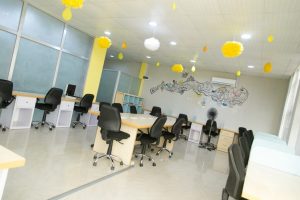 The co-working space is located at two different locations:
2nd floor The Garnet Building km 14 Lekki-Epe Expressway, Lekki, Lagos.
25b Ikorudu Crescent, Dolphin Estate Ikoyi, Lagos.
Capital Square is a co-working space and membership community that accommodates creative entrepreneurs, freelancers, and small business owners. In CapitalSquare, members enjoy access to a growing network of beautiful, fully serviced work and meeting spaces, event programming, and lots more.
Capital Square's mission is basically to make it easier for small businesses to do business. It was founded in April 2003 and launched on November 23,2013, by Modupe Macaulay Odunyemi.
The pricing to get a spot with them starts from 45,000 Naira ($124) per month. A single day pass goes for 3,000 Naira ($8).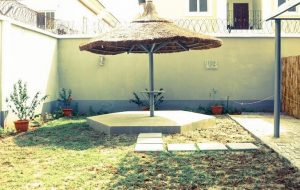 Address: 7b Dr. S Ezekiel CO, Lekki Phase 1, Lagos
V8 Valley is an affiliate of V8 ventures. They are committed to accelerating business across Africa with a simple vision. V8 Valley bridges the gap between young companies, investors, and highly experienced mentors. As such ensuring rapid commercial growth, especially in the technology world.
They perform this duty by providing flexible and on-demand co-working space. Their office services include high-speed internet presentation equipment, dedicated format desk, meeting rooms, conference and training rooms, uninterrupted power supply, 24/7 security, and lots more.
Their pricing begins from 45,000 Naira ($124) to have space with them.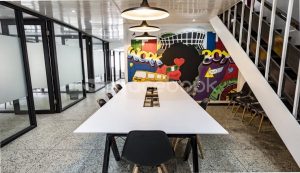 Address: 10 Ojora Close, VI, Lagos
Workbox provides fully serviced private and executive offices and co-working space. They assist in growing businesses by providing flexible and affordable services.
All your business needs are provided under one roof. Their services include private and executives offices, co-working space and conference facilities, business and freelance services. Spaces are available for weekly, monthly, or annual usage.
To acquire their affordable services, pricing starts from 4000 Naira ($11) daily and 50,000 Naira ($138) monthly.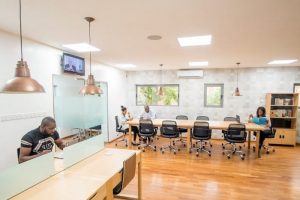 Address: 1 Tower Close, Off Idejo Street, Adeola Odeku, VI, Lagos
Cranium One is a warm, open, and inviting shared workspace for entrepreneurs and small businesses. Cranium One members benefit from a beautifully designed, conducive environment, shared skills and resources, increased motivation due to the serene ambiance in the office, an expanded network of professional contacts, and a sense of community.
They are committed to operating a shared workspace that fosters collaboration, openness, innovation, creativity, community, accessibility, and sustainability.
Their pricing system starts from 45,000 Naira ($125) per month for a hot desk, 75,000 Naira ($207) for a dedicated desk, and 200,000 Naira ($552) per month for a private office.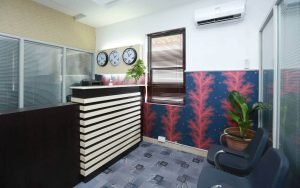 Address: 27 Emma Abimbola Cole Street, Lekki Phase 1, Lagos.
Last but not least on our list of the best co-working spaces in Lagos is BVF.
BVF provides one of the best customer atmospheres in Lagos. Their staffs are top-notch and of superb quality. Their offices are strategically located and easily accessible from any part of Lagos
The work station is fully equipped with the necessary equipment, the internet is reliable and of fast speed. BVF provides business with that comfort you need to work effectively. BVF is highly recommended for new entrepreneur businesses, which can help you take your business to the next level.
Their pricing starts at a mouth-watering 80,000 Naira ($221) per month and a staggering 1.2 million Naira ($3.317) annually. Their quality allows for these prices, you could give it a shot and see their superb performances.
Final Word
These are the best co-working spaces in Lagos for businesses and individuals. They are adequately equipped with the necessary facilities, conducive atmosphere for businesses and creatives to interact in one space.
What do you think about the co-working spaces listed? Have you ever worked in one of these spaces? Or is there a great shared office in Lagos we haven't listed? Go ahead and drop a comment, we value your thoughts.
Also, check out the best residential areas in Lagos.