The metropolitan city of Lagos asides its hustle and bustle also comes with exciting relaxation places where residents can enjoy relief from the stress that comes with living in Lagos. Whether you live on the mainland or on the island, these places are in abundance, once you know the right places to look.
Contrary to many opinions, Lagos mainland is just as exciting as Lagos Island as long as you know what you're looking for you would definitely find it. This article is a guide to helping you enjoy the most of Lagos mainland, by providing you with the best fun places to hangout in Lagos mainland.
6 Fun Places to Hangout in Lagos Mainland
Here are the top fun places to hangout in Lagos mainland, depending on what you want, we have provided something for everyone: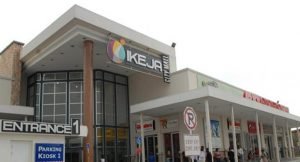 Address: 194, Obafemi Awolowo Way, Alausa, Ikeja.
Any list of fun places to hangout in Lagos mainland would be incomplete without mentioning Ikeja City Mall.
Ikeja city mall makes the first on the list. It is located in the heart of Ikeja, Alausa, home to the state government and its parastatals. Ikeja city mall is an ultra-modern shopping centre that is opened to all and makes goods and services available quickly.
Ikeja city mall guarantees you ample parking space for shoppers and the provision of top-class securities in guarding the surrounding. The shopping centre comprises of a 100 stores with a desirable mix of retailer trading exceptional brands.
The shoppers are not only given access to a large variety of goods, but they also enjoy a diverse, comfortable, clean, safe, and convenient experience. This experience includes shopping, entertainment, and leisure all under one roof. So you have a pick between dining at some of the finest restaurants in Lagos, shopping at high-quality brands, catching a movie or opting for drinks.
The mall is opened from Monday to Saturday, from the hours of 9 am to 9 pm.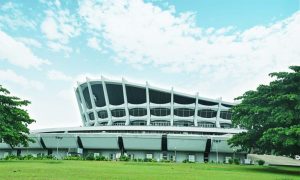 Address: National Theatre, Iganmu Lagos Apapa Local Government, Lagos.
The National Theatre is one of the historical tourist destinations in Lagos that and an ideal tourist destination for private and group tours.
The theatre opens you to a view of the collections of outstanding art on display in the exhibition room. Visitors could take pictures with the backgrounds and carvings of the theatre. Lovers of photos could snap some shots there in the theatre, and video scenes could also be shot. Picnic with family and friends on the surrounding lawns is also allowed in the theatre.
The national theatre is an avenue for potential visitors to learn more about art while also having fun in its beautiful environment.
The elaborate hall has a 5000 seater hall with a collapsible stage and two capacity cinema halls surrounded by beautiful and mind-blowing sculptures, trees, wall carvings, lakes, and vegetation, to mention a few.
Entry to the gallery is free; however, other costs may arise while at the avenue.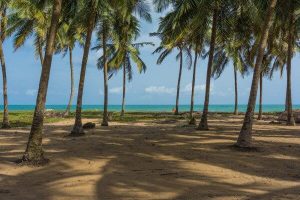 Address: 67, Seme border expressway, Badagry, Lagos
The beach boast of beautiful palm trees and huts. One special and unique quality of the beach is its serenity and calmness. The quietness takes one to a whole new level and opens the mind to the world.
The beach also has horses for visitors to have a short ride around the premises. One could also try fishing on the beach, which allows for freedom of visitors. The locals around there also have a hand in making visitors have a fun-filled visit. They tell historical tales which are always interesting to listen to.
It is commonly said that the best time to visit the beach is during the weekends as there will be many events going on.
To have a time on the beach, you have to pay an entry fee of 500 Naira ($1.6) for adults, 200 Naira ($0.56) for children. The huts cost 2500 Naira ($6.9). However, it should be noted that these prices are subject to changes during the holidays.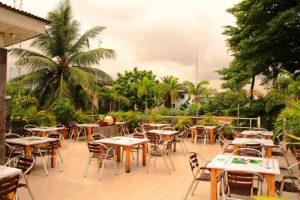 Address: 3A, Adekunle Fajuyi Way, Ikeja GRA, Lagos
'La Mango, a beautiful place to be' as their motto implies, says everything about the restaurant. Every single thing on the site is beauty at its peak. The area is surrounded by relaxation and serenity, and it is a place you will live hard to forget.
Aside from the interior layout of the place, La mango is also easily accessible, well secured, and with ample parking space. This makes it a great choice for social gatherings and family events.
It boasts of a capacity of 500 and six unique sections; there are many activities taking place there. Events like dinners, pool-side parties, meetings, company reunions and farewells, book launching, Christman parties, and lots more. Lovers of sports are also not left behind as this place is a recommendable place to watch their favourite team take action on the field of play.
La Mango serves a wide variety of Nigerian meals with prices starting from 1500 Naira ($4) while drinks start from 1000 Naira ($2).
La mango opens throughout the day, which makes for friendly transactions between customers at any time of the day.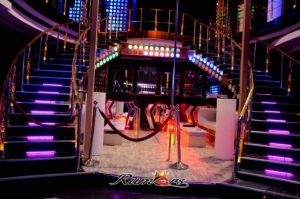 Employees and hustlers after the day are looking for a place to relax with good music; then, the Rumours club is there for you.
Nothing brings more joy than knowing that after the day's work and the bustle of the day, there will be an available place to wind yourself up. The night is for having fun, and this particular club provides just that during that period.
The club is owned by Nigerian music legend, Tubaba Idibia, and sees regular visits from famous Nigerian celebrities which places it on everyone's radar. A prominent musician holding a club means whatever the club will offer in terms of music; it will be top-notch.
At the club, brilliant dancers can show their dancing skills, you can interact with the Lagos 'who is who'. Important men don't want to be left out in the buzzing of the night, and a number of them can be found in Rumours.
It's a serene environment with good music, good food, excellent service, game for the matured mind and guaranteed security, and a popular luxurious hangout spot for artists and celebrities.
The club doors are opened Wednesday to Sunday, 11 pm till dawn.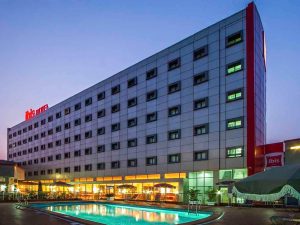 Address: 23 Toyin Street, Ikeja, Lagos, Nigeria.
Finally on our list of fun places to hangout in Lagos mainland is Hotel Ibis.
The hotel boast of 163 fully air-conditioned guestrooms, including many contemporary loft suites that accommodate business and leisure travellers. The hotel is ideal for business travellers as all guests have access to free wifi, a self-service business centre, and four conference rooms.
The mainland hotel, since inception, has been of exceptional standard and has provided its customers with quality services.
You could unwind and revive with their offers that include a healthy breakfast and a spa visit. Their foods are of high-quality and possess essential nutrients.
It also possesses halls to host grand reception, business conferences, or am intimate board meeting. The hotel's rooms are equipped with alternative audiovisual technology, fast, free wifi, and a dedicated bar for relaxation.
Other services the hotel provides are luggage storage, running trails, express check-out, dry cleaning, and lots more. The hotel is opened throughout the week as people will intend to lodge in at any time.
To book a room per night in the hotel, it cost around 25,000 Naira ($69), check HERE for more information about Hotel Ibis.
Final Word
Just as Lagos stresses you, so also does it provide you with the best places to relax whenever you need to. So if you live on the mainland, you should check out these places our list of fun places to hangout in Lagos mainland.
Leave a comment to let us know your verdict on these places to have fun in Lagos.
Also, check out our article on fun places to hang out in Lagos Island.