In this article, we list the wealthiest pastors in Nigeria, using the popularity of their churches and their Forbes ratings.
Christianity is one of the major religions in Nigeria. It is estimated that more than half of Nigeria's population practices Christianity. Thus, it is no surprise that Nigeria is home to a large number of pentecostal churches.
Religious leaders in Nigeria are highly respected. Most Pentecostal churches are often headed over the founder of the church or an appointed General overseer. Leaders of well-attended pentecostal churches are often men of influence and affluence and many of them have been listed among the richest pastors in the world.
Wealthiest Pastors in Nigeria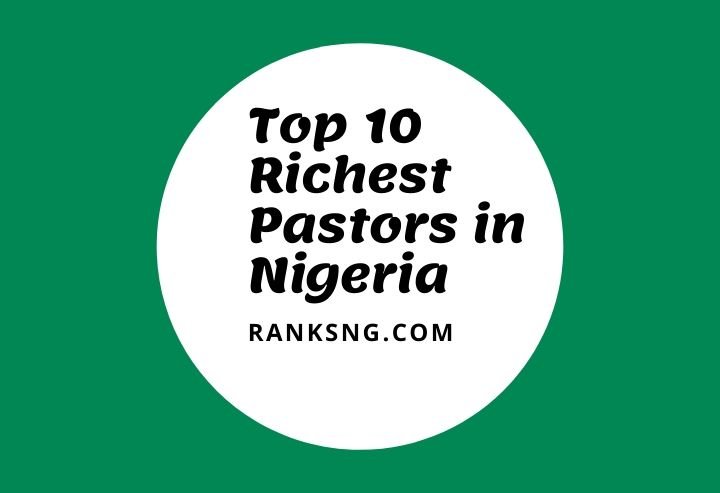 Here are the wealthiest pastors in Nigeria right now:
1. Bishop David Olaniyi Oyedepo
Bishop David Oyedepo is the founder and General overseer of LivingFaith Church, popularly known as Winners Chapel.
A native of Omu Aran, Kwara State, Bishop David Oyedepo was born on the 17th of September, 1954, into a religiously mixed family. His grandmother raised him, and she taught him the virtues of the Christian life.
Bishop David Oyedepo is a leading investor in education as he owns two renowned universities in the country, Covenant University, and Landmark University. His network of churches spreads over 300 cities in the country and 45 nations in Africa. The church auditorium, Faith tabernacle, is famously regarded as one of Africa's most massive worship centres with a seating capacity of 50,000. The church's auditorium in 2018 was recorded as the largest church auditorium in the world by the Guinness Book of Records.
Bishop David Oyedepo also owns Dominion Publishing House, a publishing media house that publishes his books.
Forbes puts his net worth at $150million (54 billion Naira) making him the richest pastor in Nigeria. He owns a Gulfstream V jet valued at around $30m. Reportedly, Bishop David Oyedepo owns four aircraft, which includes a bombardier challenger aircraft and two Gulfstream planes.
Bishop David Oyede also owns a fleet of luxury cars, including a Mercedes-Benz and BMW.
2. Pastor Chris Oyakhilome
Popular Nigerian televangelist, Pastor Chris Oyakhilome, born on the 7th of December, 1963, is the founder and president of Believers' Love World Incorporated, (Christ Embassy).
Located in Lagos, Christ Embassy is one of the biggest churches in Nigeria with over 50,000 members and over 13 million members globally. According to Forbes Pastor Chris has a net worth of $50 million (21.6Billion Naira). He owns a printing press 'Global Plus Printing Press', a local television station 'Pastor Chris TV'.
Pastor Chris owns a record label 'Loveworld Records', 24-hour satellite TV and a creative arts academy. His house in Lagos, popularly called 'White House', costs about 1billion Naira ($27m). Pastor Chris also owns a private jet, widespread real estate across Nigeria, and about 30 SUVs, which includes a powerful Range rover.
3. Pastor Enoch Adeboye
Pastor Enoch Adejare Adeboye is the general overseer of Redeem Christian Church of God (RCCG); the church boasts of over 12,000 churches in over 120 nations. Pastor E. A Adeboye as he is popularly called, was born on the 2nd of March, 1942 in a village in Ifewara in Osun State located in the southwestern part of the nation.
He transformed RCCG into greater heights, as seen in the development of world-class redemption camp and Redeemer University at Mowe, Ogun State.
With a net worth of $39m (18 Billion Naira), Pastor E.A Adeboye holds his place as the third wealthiest pastor in Nigeria based on Forbes ranking.
He owns a $65 million G550 luxury jet, a bulletproof Rolls-Royce phantom that cost around $400,000, Land Rover Discovery costing about $80,000, and a Mercedes-Benz Gelandwagen said to cost around $100,000.
4. Prophet Temitope Balogun Joshua
Popularly regarded as Prophet T.B Joshua, Prophet Temitope Balogun Joshua is a Nigerian pastor, televangelist, and philanthropist. He is the founder and General overseer of The Synagogue, Church of All Nations(SCOAN), a Christian organization formed in 1987. He operates the Emmanuel Television station from Lagos. Born on the 12th of June, 1963, in Ondo State, Nigeria, Pastor TB Joshua runs humanitarian works on education, healthcare, and charity.
Pastor TB Joshua has a million followers on his YouTube channel. His TV station is of the most influential Christian TV channels in Africa, which are characterized by testimonies of healing of all sorts.
With a net worth of $10million (7.2billion Naira), Pastor TB Joshua owns a $6 million private jet and a fleet of luxurious cars, including a range rover and Mercedes-Benz.
5. Pastor Matthew Ashimolowo
Pastor Matthew is the founder and senior pastor of Kingsway International Christian Centre (KICC) with its headquarters in London, United Kingdom. His church can be said to be the largest pentecostal church in London.
Pastor Matthew reportedly earns about $200,000 yearly as his salary and has a net worth of $20 million (7.2billion Naira).
Pastor Matthew owns a private jet, a printing media, and a publishing company that publishes most of his prosperity books(Matthew Ashimolowo media). He owns a Mercedes-Benz reported to cost around 3 million Naira.
6. Pastor Chris Okotie
Christopher Oghenebrorie Okotie, popularly known as Chris Okotie, was born on the 16th of June, 1958 in the Ethiope west local government area in Delta State, South-south Nigeria
Pastor Chris started off first as a secular pop artist in the '80s before he getting his call to minister. He now pastors the Household of God Church International Ministries in Lagos.
His church is one of the biggest in the city of Lagos and well renowned as a worship centre for most Nigerian celebrities.
Pastor Chris loves cars, and he owns many exotic vehicles including; hummer jeep, range rover limousine, Range RoverSport, BMW Xseries, Mercedes-Benz, and the 80 million Naira rolls Royce phantom.
His net worth is $18 million(6.5 billion Naira)
7. Pastor Ayo Oritsejafor
Pastor Ayodele Joseph Oritsegbebumi Oeitsejafor was born on the 10th of November in Delta state. He is an author, pastor, evangelist, teacher, prophet, and Apostle.
Pastor Ayodele Joseph is the general overseer and presiding pastor of Word of Life Bible Church. He is a former national president of the Christian Association of Nigeria CAN).
Pastor Ayodele Joseph owns estate worth millions, a 3.5 million bombardier challenger 601 private jet and fleets of cars
His net worth is $17 million (6.1 billion Naira)
8. Pastor Suleman Johnson
Apostle Suleman is a Nigerian televangelist and the senior pastor and General overseer of Omega Fire Ministries International. Omega Fire Ministries International headquarters is located in Auchi, Edo State.
The church has a global reach that uses Facebook, a significant social media platform, to broadcast the messages to the world. Apostle Suleman owns a 24-hour Christian television channel 'Celebration TV' and a radio station 'Voice of Fire Audio.' His ministry purchased a private jet for him worth over 60 million Naira. Pastor Suleiman's net worth is estimated at around $15 million(5.4 billion Naira)
9. Pastor Paul Adefarasin
Pastor Paul Adeola Adefarasin is the founder and senior pastor of House on the Rock Church. Born on the 25th of January 1963 to a Nigerian father and Jamaican mother, Pastor Paul spent most of his early life in Nigeria and the United States.
Pastor Paul is an author, motivator, and conference speaker. He is the convener of 'The Experience,' arguably the largest musical gospel event in Africa, which holds annually. Pastor Paul and the church, shell out about 50 million Naira to sponsor The Experience.
He owns lots of luxurious cars, and his net worth is $10 million(3.6 billion Naira).
10. Bishop Mike Okonkwo
Bishop Mike is the presiding Bishop of The Redeemed Evangelical Mission (TREM) with its headquarters at Lagos. The church is a megachurch with over 180 branches in Nigeria and a lot more outside the country.
Bishop Mike Okonkwo owns two private jets worth over 50 million Naira, and he holds a 2 billion Naira estate and a house of worship in Abuja. His estimated revenue is about 2.5 billion Naira annually. He possesses homes in London, the USA, and South Africa.
His net worth is $5 million (1.8 billion Naira)
Final Word
The pastors on our list of wealthiest pastors in Nigeria are influential pastors locally and abroad. Asides their personal wealth, they lead some of the biggest churches in Nigeria and Africa as a whole.
Let us know what you think of this list by leaving a comment below.
You should also read our list of the wealthiest families in Nigeria.